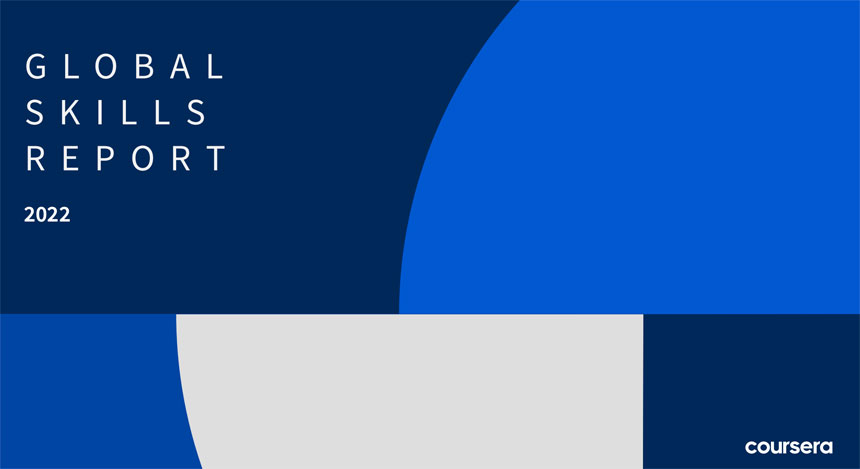 Jeff Maggioncalda, CEO at Coursera, announced yesterday its Global Skills Report 2022, a global survey on skills proficiency and trends in business, technology, and data science, that uses data from over 100 million learners across 100 countries.
The report features digital and human skills that are critical for growth and innovation and maps out career training pathways for employees to stay competitive. It provides skills proficiency per country, as shown in the graphics below.
"With global instability and inflation on the rise, workers are increasingly looking to employers to provide job security and long-term career growth," said Jeff Maggioncalda.
"The 'Great Resignation' is also the 'Great Reskilling' with many learners now seeking career-building skills needed to start new careers in high-demand roles like IT, digital marketing, and data analysis," he added.
In the last year, the most popular skills in business, technology, and data science were leadership and management, probability and statistics, and theoretical computer science. However, according to the outcome of a recent survey, "not every worker needs to learn how to code, but adding digital skills to supplement foundational human and technical skills enables workers to maintain relevance as skills demands evolve."
In the same report, three-quarters of workers said they felt unprepared for jobs in the digital-first economy — where "digital skills are the shared language of the modern economy and are essential for economic success."
Other interesting outcomes are:
Lower levels of Internet access mean lower levels of skills proficiency. Countries with the lowest 25% of learner performance had lower access rates, around 54%.
Courses in human skills had more learners from developed countries. "People invest in human skills to effectively and ethically make use of digital skills, while digital skills provide a gateway to employment," said Coursera.
Europe leads the world in skills proficiency. The Old Continent can be the model for global education, employment, and workforce leadership.
In the US, learners focused on human skills like project management, decision making, and planning.
Skills development drives opportunity and equity.
Original Source : https://iblnews.org/digital-skills-are-the-language-of-the-modern-economy-says-coursera-in-its-2022-global-report/