Today I want to talk about a topic that I haven't discussed in any of my articles in the past but I have been asked about frequently. Mindvalley for business: is it a good idea or not?
I haven't used Mindvalley for my own business because our team is relatively small, and most of us take Mindvalley Quests anyway and don't need all the tools that Mindvalley for Business provides. I first joined Mindvalley about 2 years ago and it completely changed both my personal and professional life. It helped me to reach my business goals and set new ones. I like the flexibility that the platform offers and that I can learn at my own pace whenever I have time for that. And while Mindvalley for Business may have additional features that would suit larger teams better, it's not necessary for us right now. But Mindvalley definitely helped not only me but our whole team build a strong company vision and taught us how to cooperate with each other more effectively for better results.
What Is Mindvalley Business?
Mindvalley for Business is an innovative platform that enables teams to access a wide range of live events and growth opportunities throughout the year. The platform provides a series of workshops, conferences, webinars, and more, all designed to help teams reach their goals faster.
So who could benefit from Mindvalley Business and why should you think about getting it for your team? As we all know, the workplace can be an incredibly disheartening place for many employees. According to recent studies, 85% of employees are not engaged in the workplace and 81% are considering leaving their jobs. This is a troubling statistic that speaks to a larger problem - employees feeling unappreciated and unsupported. While there are many contributing factors to this lack of engagement, it seems that appreciation remains at the core of this issue. 69% of employees say they would commit more to their work if they were appreciated more, suggesting that a little recognition could go a long way in improving morale and productivity. Employers need to take these statistics seriously if they want to keep their workforce motivated and invested in their success, but of course, not everyone has time to do that. Mindvalley offers a solution for this problem: they can help transform your team mindset and collaboration with their unique "360 Approach To Growth".
Mindvalley Review: My Experience After 360 Days Is It Worth It?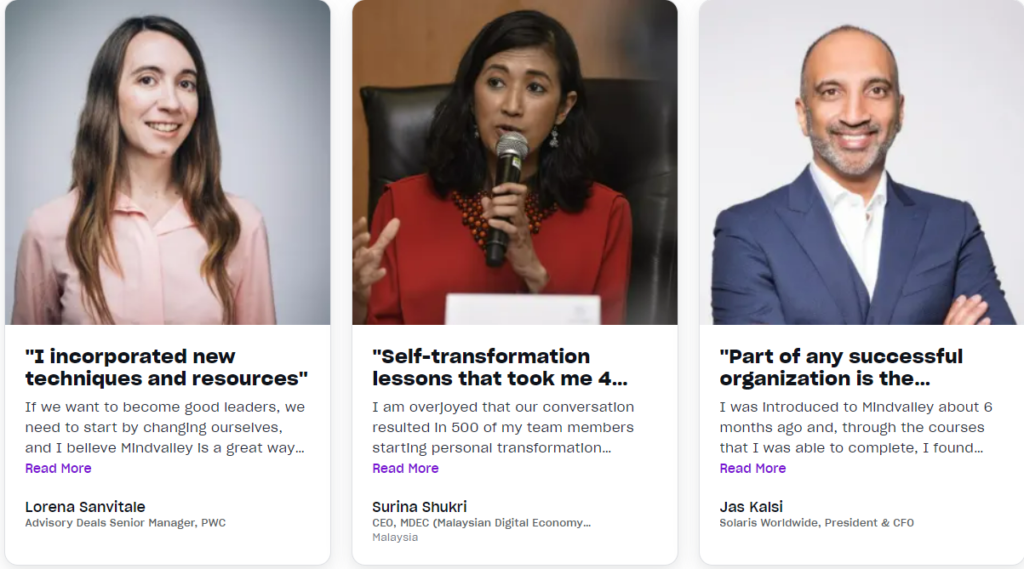 To give you an idea of what results you can accept from Mindvalley Business, here is an overview from the company's website:
Enhanced Productivity and Human Excellence
Improved Focus and Increased Intelligence
Immunity to Overwhelm and Stress
Improved Employee Engagement and Retention
Reduce Absenteeism and Eliminate Burnout
Inspire Boundless Innovation and Creativity
Create Stronger Leadership and Ownership
Higher Profits Through Optimized Performance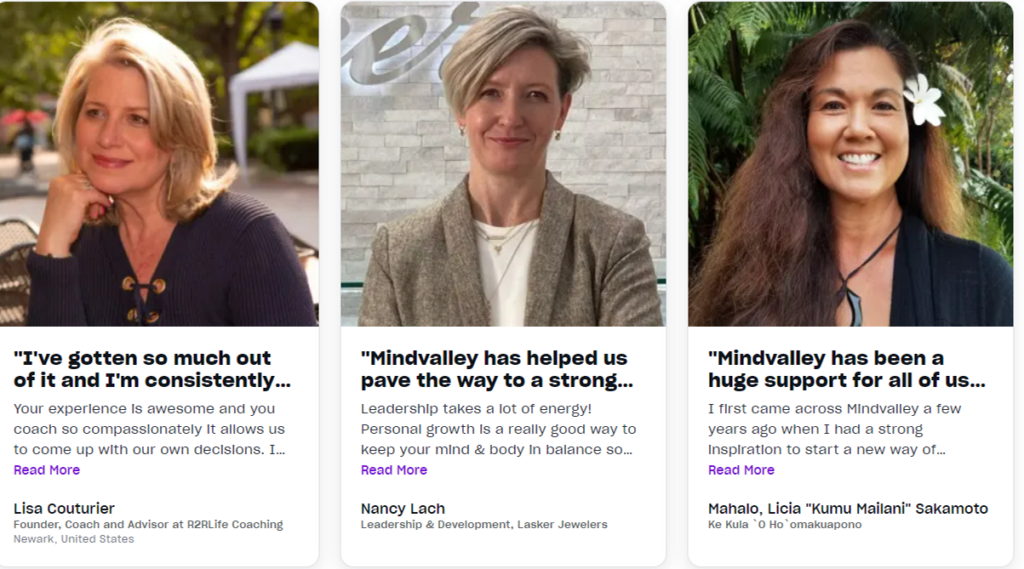 By improving focus and increasing intelligence, employees can become more efficient and effective in their work. Immunity to overwhelm and stress is an important factor when it comes to ensuring that employees remain committed to their tasks. It is also a great way to improve employee engagement and retention as employees feel less pressure from their workloads. Increased intelligence helps employees to think more critically about their work, leading to better results.
By inspiring boundless innovation and creativity, employers can help cultivate a culture of enthusiasm and motivation. This will help drive stronger leadership and ownership within the organization, leading to higher profits through optimized performance. Additionally, providing team members with the resources they need to succeed- including access to training, educational opportunities, and mentorship - will empower them to take ownership of their work and contribute more effectively. Improving communication between leaders and employees will also create an atmosphere of trust and respect that encourages collaboration and helps ensure that everyone is working towards the same goal. With these strategies in place, organizations can achieve lower absenteeism rates, higher productivity levels, increased job satisfaction, and ultimately higher profits.
In my opinion, Mindvalley for Business is a cutting-edge corporate training platform designed to help organizations unlock their team's potential. It offers an array of engaging, interactive, and customized experiences for businesses of all sizes. The minimum number of participants for the program is usually twenty individuals and the fee per person is $299. You can take a free consultation first to make sure that Mindvalley for Business is a good match for your company and ask about custom plans. The membership process is easy and straightforward - you first need to sign up to access the exclusive content library tailored specifically for business users and then customize your learning experience with personal selections from different learning paths. You can choose the type of training that suits your organization's needs and align it with your existing professional development initiatives. Finally, you can measure success by tracking progress through analytics and reporting tools, ensuring that you achieve your desired outcomes. With Mindvalley for Business, you can ignite innovation in the workplace and create an environment of continuous growth and improvement.
How Is Mindvalley for Business Different From Regular Mindvalley Membership:
- Concierge Onboarding Experience For Mindvalley Business is designed to make it easier for business owners to get started with Mindvalley. The experience provides personalized support and guidance, tailored to each business's individual needs. It includes a personal call with a dedicated onboarding specialist who will walk you through the process of setting up your account and explain all of the features of the Mindvalley platform.
- Orientation Call With Vishen Lakhiani who is a founder of Mindvalley, the leading personal growth platform for entrepreneurs, companies, and individuals. Vishen has been a pioneer in the industry for many years now, providing innovative solutions that enable people to unlock their greatest potential. He has created a thriving business from the ground up and is highly respected as an expert on personal growth and development.
- Team-Based Transformation Journeys at Mindvalley Business are designed to help teams gain clarity and focus on the goals they want to achieve. Through a combination of workshops, activities, and team discussions, teams will be guided in identifying and addressing any obstacles that may be hindering their success. Mindvalley Certified Coaches and Trainers are there every step of the way to provide personalized support and advice that can help your team reach its potential. With their expertise in team dynamics, emotional intelligence, and conflict resolution, your team will have the tools necessary to create lasting solutions. Together you will explore new strategies for developing collaboration within the group, build trust across teams, and foster meaningful relationships with stakeholders.
Best Mindvalley Courses And Quests To Take
Mindvalley Business Certificates And Reports
With each program the team members complete, they will receive an official Mindvalley Certificate. This certificate serves as a physical recognition of the achievements made by your employees and provides tangible evidence of their progress. Reports from Mindvalley Business can also provide in-depth analytics into how well the team is performing, allowing you to identify areas for improvement and take action accordingly. Additionally, members receive personalized feedback from experts on how to further their development journey, making it easier to stay focused on goals and sustain motivation. These reports are a great tool for tracking performance and helping to get the most out of each member's experience.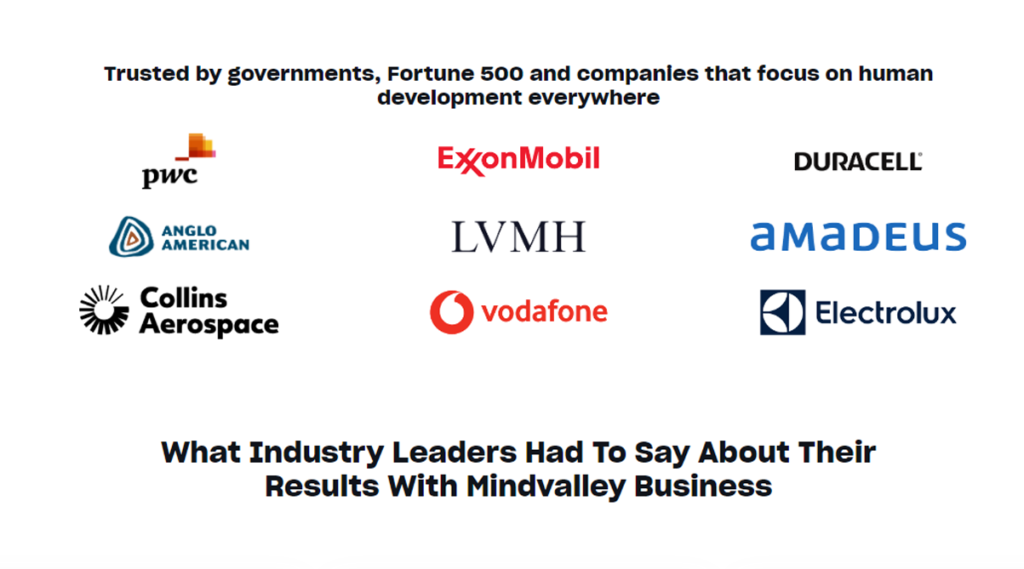 Is Mindvalley Business Worth It?
Yes, Mindvalley Business is worth it. It's a great way for companies to build a strong foundation for success in businesses and improve productivity by giving participants new skills and insights into how to create not just an innovative work environment but also happier more positive team members and bring excitement to a workplace.
Mindvalley Business works with some of the biggest brands and companies in the world. These include Exxon Mobil, Duracell, Vodaphone, Aerospace, and Electrolux. These companies choose to work with Mindvalley Business because of their proven track record for delivering results that exceed expectations.
CEO Of Cosmetic Brand Marini Eliminate recently made an incredible decision to try Mindvalley for business instead of bankruptcy. This move has paid off as the company has quadrupled its revenue and the team is now a much happier and more motivated one to work with. Everyone in the company feels the joy to be part of this success story and they are grateful that the company chose to go with Mindvalley instead of bankruptcy and is excited to see what other positive changes the future holds.
Overall, teams that have taken Mindvalley for Business found it to be a great experience. They reported feeling stronger, happier, and very pleased with the personal customer support provided by Mindvalley. Statistics show that more than 70% of those who attended courses enjoyed them. The team members were able to gain valuable knowledge from the courses and apply it to their own business practices and personal life which has had positive results. This type of learning environment provides an opportunity for teams to come together and collaborate on new ideas and strategies. Mindvalley for Business offers a unique way of helping teams become better organized and more productive in the workplace.